CH Instruments
CHI400C Time-Resolved Electrochemical Quartz Crystal Microbalance: for electro-deposition, adsorption, and chemical and biological sensor studies.

CHI600E Series- Electrochemical Analyzer/Workstation: for general purpose electrochemical measurements, such as kinetic measurements, electroanalysis, fundamental research, corrosion, and battery studies.
CHI700E Series-Bipotentiostat: for rotating ring-disk electrodes (RRDE) and other cases where dual channel measurements are essential.

CHI800D Series Electrochemical Detector: for either single or dual channel electrochemical detection of flow cell, capillary electrophoresis and liquid chromatography, for chemical and biological sensors, and conventional electroanalysis.

CHI920D Scanning Electrochemical Microscope (SECM): for electrode surface, corrosion, biological samples, solid dissolution, liquid/liquid interfaces and membranes studies.
CHI1000C Series Multi-Potentiostat: 8-channel potentiostat for array electrode characterization and sensor studies.
CHI1100C Series Power Potentiostat / Galvanostat: for applications involving higher current and compliance voltage.
CHI1200B Series Handheld Potentiostat / Bipotentiostat: for electroanalysis, sensor studies, and field applications.
CHI1400 Series 4-Channel Potentiometer/Potentiostat; for multichannel amperometric and potentiometric measurement
CHI200(B) Picoamp Booster and Faraday Cage: The CHI200 is compatible with the Model 600/A, 700/A series of instruments, while the CHI200B is compatible with Model 600B/C and 700B/C series.

CHI680 Amp Booster: The CHI680 is compatible with Model 600, 600A, 600B, and 600C series of instruments.
CHI682 Liquid / liquid interface adaptor: CHI682 is compatible with our model 700A series. It is fully automatic and integrates seamlessly.
CHI684 Multiplexer: CHI684 is a multi-channel multiplexer for the model 400/A, 600A/B/C, 700A/B/C, 800B, 900B and 1100A series.
Model 1550A Solution Dispenser: for making high density and high accuracy solution arrays.
SECM book - Scanning Electrochemical Microscopy
edited by Allen J. Bard, Michael V. Mirkin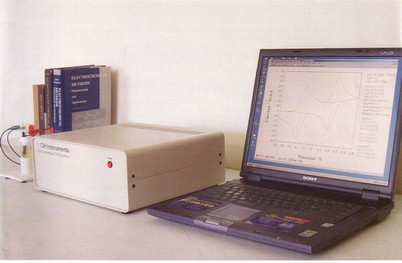 Images: Click on thumbnails to enlarge
| | | | |
| --- | --- | --- | --- |
| | | | |
| Front and rear view of the Model 400A, 600B, 700B, 800B, 900B, 1000, and 1100A series instruments | Electrodes | CHI220 Cell Stand | CHI130 Flow Cell |
Other Electrodes and Accessories
ALS Co. Ltd., for a range of cells, flow cells, electrodes, spectroelectrochemical cells and flow cells